Welcome back, friends of the realm!
A apology from my end, for being stupidly lazy with posts. Life is hectic for the Lady of the Fae, so let's hope that my sporadic posts make up for that.
To bring some variety to  the Fey we see presented in Dungeons and Dragons, here are some that are taken directly from faerie lore across the world as well as some custom things created for my own amusement and games. These are also a sampling of creatures from a larger project I am currently working on, and only really have had the time to make any sort of real headway with.
---
Bwca
Related to friendly household spirits such as Brownies, the Bwca is the much more mean-spirited version of these diminutive, helpful Good Neighbors.
The Bwca, as a house faerie, will do chores while the inhabitants are not around or blissfully unaware of its physical presence. However, if it is not thanked en masse for its hard work, via an offering of alcohol or a saucer of cream, it will soon become destructive and wreck havoc across the property it works to maintain and live in.
---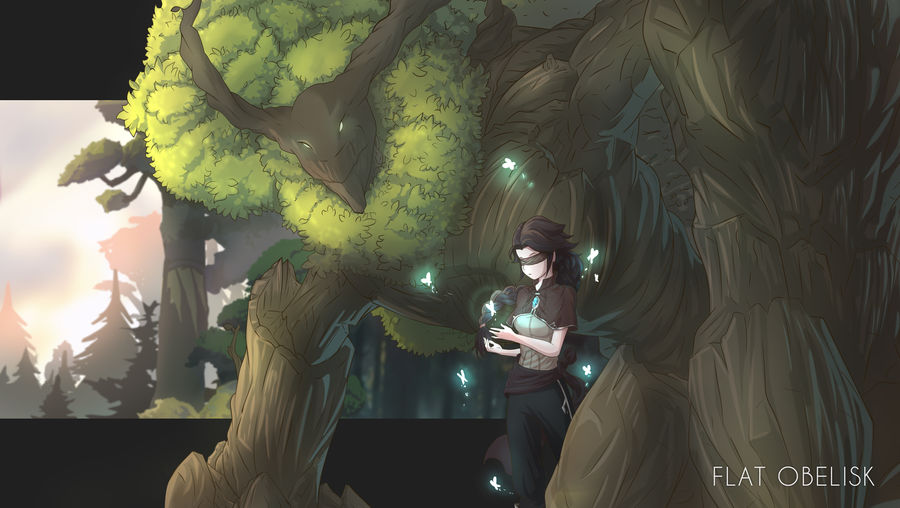 Deepwoods Guardian
Vaguely resembling bipedal tree-like forms, Deepwoods Guardians are aptly named: nomadic shaman-esque fey creatures who are skilled in pacifistic magic and guiding the lost.
Though they are capable of great destruction, violence is never their first reaction. Often, they would rather talk to someone and figure out the reasoning to their actions before choosing a proper course of action. And sometimes, if one is lucky, a wanderer would gain it's s favor by doing such small things, like planting a flower.
---

Jack-In-Irons
One does not often think about giants as being Fey creatures, but such is the case in two beings: the kind-hearted Firbolgs and the much-less pleasant Jack-In-Irons.
Wandering lonely causeways and passages in the dead of night, the Jack-In-Irons is a malign thing. It does not take kindly to  those it crosses, especially humanoids who lack faerie blood.
Their most well-known attack is when they lob one of many heads at wanderers, which they seem to never have any less then five heads total of things which they have recently killed.
---

The Nualavae
A horror if there ever was one, the Nuckalavae is a chaotic beast even amongst the wild faeries.
The Nuckalavae is something which is unimpeded by water and terrain, the ocean proving just as easy for it to navigate as  the roaming hillsides it stalks. Sailors know to avoid the territory it claims as its own, and that the only way to keep away from it is by crossing a rather mundane threshold: a simple brook of running water will stop it dead in it's tracks.
All artwork belongs to their respected artists. All creatures are either created from homebrew or are actual mythological figures: if they resemble anything previously created, this is by sheer chance. 
All content by Pitfalls and Pixies belongs to Faith D'Ambrosio (Brynvalk.Wordpress.com)